The Great British Songbook
[
Texto previamente publicado no Jornal dos Açores
]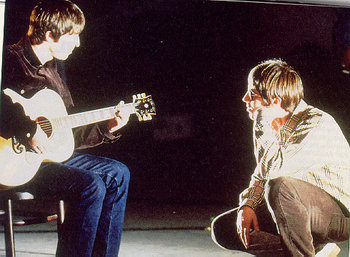 Os Oasis são de uma importância vital para grande parte da Humanidade. São-no, desde logo, para todos os que lhes coleccionam a discografia, que lhes admiram as melodias, os excessos e os dislates, que lhes invejam a pose, a aparência e o estilo de vida (deixemos, porém, a autobiografia para outro dia). E são-no também, se não mesmo principalmente, para todo um exército ocioso de jornalistas e críticos. Cada álbum novo dos Oasis é um alívio para muito braço caído com défice de criatividade e ânsia de aceitação pela classe.
Fazer a análise de um disco desta ilustre gente de Manchester, não só é tecnicamente fácil, como é profissionalmente recompensador. Fácil, porque basta decalcar da cartilha os preconceitos correntes; recompensador, um vez que criticar os Oasis está para o jornalista pop como a luta antifascista para o político pátrio: é uma espécie de etiqueta de qualidade certificada, de idoneidade para a prática do ofício. Depois de uma boa vergastada na banda dos Gallaghers, aí sim!, é só palmadinhas nas costas dos colegas mais velhos, é só sumidades a quererem oferecer ao mancebo os seus primeiros óculos de massa e o seu primeiro sobretudo rafado, é só conversas com o João Lisboa sobre os Rollerskate Skinny.
E é precisamente por o cenário ser basicamente o exposto que se estranha a benevolência com que o novo álbum dos Oasis («Don't Believe The Truth», 2005) tem sido recebido. Salvas as devidas excepções, existem mesmo casos em que a coisa atinge o entusiasmo e até a histeria, como já não se via desde os tempos de «Definitely Maybe» (1994) e (What's The Story) Morning Glory? (1995). Desconheço ao certo a razão para a conversão súbita. Mas desconfio.
Os Oasis foram, em meados de 90, o que apenas alguns conseguiram ser em toda a história da pop. Assim como Elvis ou os Beatles, como os Stones, Bowie ou os Nirvana, os Oasis mudaram, literalmente, a imagem de uma nação. A força das suas canções, da sua atitude hedonista, da sua confiança desbocada e da sua mentalidade hooligan sofisticada fez com que, em determinado momento, toda a Inglaterra adolescente vestisse, pensasse e falasse como Liam e Noel Gallagher, unindo-se alegremente nos hábitos de vida das lower classes. Ao contrário do que é comum dizer-se, não foi a imprensa que fez os Oasis; os Oasis, com tudo de genuíno que têm, é que foram – e são - um prato apetitosíssimo para a imprensa.
Em todo o caso, com o fim da década, a comunidade melómana passou a entreter-se com outras modas, de outras influências. Deixaram-se os sixties em paz e revisitaram-se os eighties e os últimos dias dos seventies, com toda a multidão saltitona do pós-punk, da electrónica e dos neo-românticos. O resultado foi, em grande parte, de uma enorme artificialidade e inconsequência. Muitas das bandas de que por aí hoje se fala mais não são que resquícios de catálogo que as editoras resolveram reenpacotar com cabelos e maquilhagem à Duran Duran (digam olá aos Bravery).
Perante esta efemeridade comercialóide, os Oasis são um bálsamo. E o novo álbum não engana: rock clássico sem nenhuma urgência modernizadora, canções irrepreensíveis com as influências certas (Beatles, Stones, Kinks, os Velvets) e a mesma atitude desafiadora de sempre.
Andemos por onde andarmos, é bom saber que eles continuam lá à nossa espera.
Os Oasis já não são a salvação do rock. Mas são o seu lar mais fiel.
FMS